A few years ago, I read an article on GrowthLab, written by Jordan Harbinger. Jordan argues that most people SHOULD NOT start a podcast.
His reasoning is very compelling and I invite you to read the article.
Jordan Harbinger is one of the founders of "The Art of Charm" podcast, which has been one of the highest ranked podcasts on iTunes for nearly a decade.
Recently, Jordan went on his own and started The Jordan Harbinger Show, which has subsequently gained massive popularity.
The point is, Jordan is a pro. He is one of the top podcasting experts in the world and his track record alone proves that he knows what he is talking about.
However, I strongly disagree with Jordan and I am going to provide a counter argument as to why you SHOULD start a podcast.
Let's get started.
Reason # 1 – You will build amazing relationships
Have you ever reached out to someone you admire and asked them to meet for coffee?
It's awful, isn't it?
You feel awkward, like you're asking someone out on a date. Even worse, you're doing it for selfish reasons and asking them to sacrifice their time for you.
Asking for coffee meetings is a bad way to meet people and an even worse way to build a network of likeminded peers.
Now, have you ever invited someone you admire to come on your podcast to have a conversation?
If so, you know there is a much higher probability that they will say yes.
When you ask someone to join you on your podcast, there is a generous exchange of value. You are offering to share your audience with them and in doing so, you will be giving away attention to your guest and his/her ideas.
I've done hundreds of podcast interviews, and I can count on one hand how many times people have declined to come the show.
I've interviewed my heroes.
Because of my podcast, I've been able to sit down and have real conversations with men and women I've admired for more than a decade. I've interviewed …
Seth Godin
Ramit Sethi
Noah Kagen
Pamela Wilson
Amanda Natividad
Brian Gardner
Steph Smith
Shaan Puri
The list goes on.
I've met lifelong friends over my podcast, and I've had experiences that have completely transformed the way I think about business and life.
None of that would be possible without my show.
The relationships I've made have created so much value in my life, both professionally and personally. It's one of the best decisions I've ever made.
Reason #2 – Podcasts are opportunity machines
What's the reason to start a podcast?
The honest answer is that you want to make money. Why would you go through all the trouble and do all the hard work of podcasting if you weren't going to get a reward from it?
I realize that money isn't always the motivating factor, but in most cases it is.
Okay great, so how do you make money from podcasts?
Most people will tell you to sell advertising, but I'm here to tell you that if you are trying to sell advertising against your audience you are in for a long and painful journey which inevitably will lead to failure.
Advertisers typically pay $15 per every 1000 downloads. Buzzsprout has reported some staggering numbers in podcast downloads. 50% of podcasts only get 98 downloads per episode.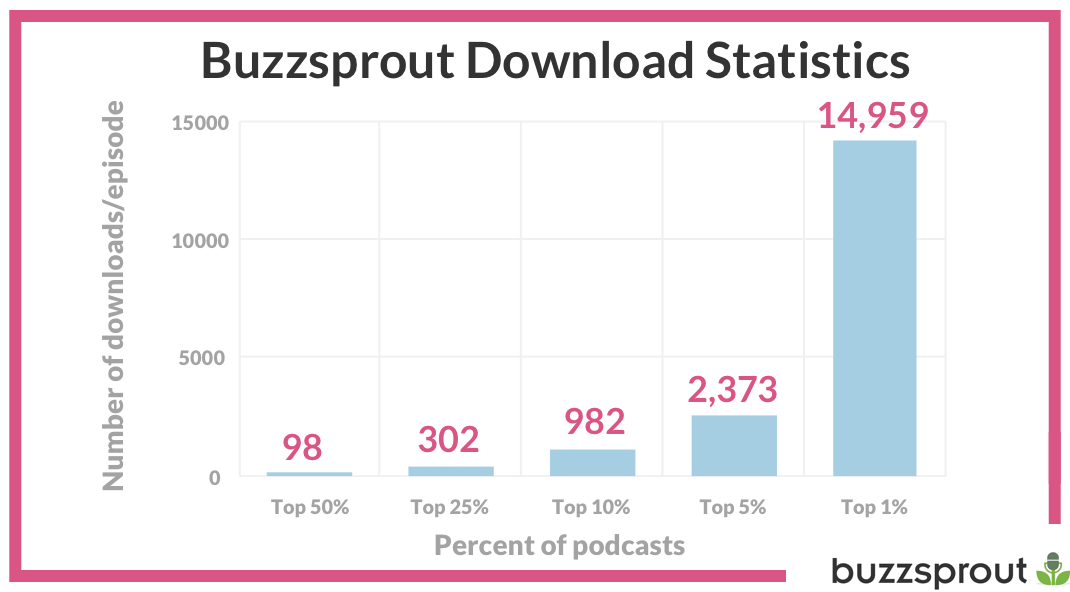 Even if you're a top 5% podcast, you can only expect about 2400 downloads an episode.
Imagine you're running ads and your publishing a weekly podcast. That means you're walking away with a skinny check of $120 a month.
That model doesn't make any sense, and from that perspective, Jordan is completely right to tell you not to start a podcast.
But that's the wrong perspective to take. The right perspective is to approach your podcast with an open mind and discover other possibilities.
How to start businesses with podcast guests
I met Jonny Nastor on my podcast. When I started my first blog, Jonny Nastor was a hero of mine. I used to listen to his podcast religiously. Hack the Entrepreneur was hugely successful and having him on my show was a dream come true.
After our conversation, we kept in touch. We became good friends and eventually, started talking about business ideas together. Over time, Jonny and I partnered and we formed LSATClarity together and eventually combined forces to start Digital Commerce.
Within a year, we've built Digital Commerce to $45,000 a month in revenue and we are on track to do well over a million dollars a year.
None of that would have happened without the podcast.
Other examples of opportunities from starting a podcast
Copyblogger – I first met Darrel Vesterfelt on my podcast, and after the show we met for coffee and this was the initial conversation that eventually led to my acquisition of Copyblogger.
Sparkloop – I invested in Sparkloop after having Louis Nicholls on my podcast. Since then, I've built a great relationship with Louis and am thrilled to be a part of it.
The Copyblogger Podcast – Many of you may have been listening to my new show. I met my co-host, Ethan on my podcast. Since then, he has turned into one of my closest friends.
There are even more partnerships I have formed that I can't talk about on a public forum, but the opportunities that have come from my podcast have been significant.
I promise you, if you start a podcast and you take it seriously, you will look back and appreciate the relationships you've made and the connections you've created more than anything else.
Reason #3 – Free marketing and backlinks
When you interview guests on your show, most of the time, they will be more than willing to help promote your show.
This promotion usually comes in two forms …
Retweets and social shares
Backlinks
Retweets and social shares
This is self explanatory, but worth mentioning.
Everyone loves to talk about themselves, so if you have a guest on your show, most of the time, they will be more than happy to share your show with their audience. This will help you grow your audience and earn more downloads.
Backlinks
If you do it right, (meaning if you incentivize people properly), your guests will be more than willing to link to your website from their own website. These links are EXTREMEMLY valuable from an SEO perspective.
Because of my podcast, I've gotten backlinks on swagup.com and sethgodin.com. I've gotten links are other sites as well, but these two are my favorite ones to mention.
Podcasting myths you should be aware of
In Jordan Harbinger's article, he makes great points about why podcasts are terrible businesses and why the barrier to entry is so high.
So far I have given you reasons why you should start a podcast, but I want to go one step further and refute many of the myths that fill people with doubt and uncertainty.
Myth #1 – You need ad revenue to monetize a podcast
We've already talked about why selling ads against your brand is a terrible monetization strategy.
If you are trying to monetize through ads, your only metric is going to be traffic numbers.
An unfortunate bi product of that model is you are incentivized by traffic and not by providing value to your audience.
There is a better way.
You can use your podcast to sell yourself!
Sell your own products and services. Sell tee shirts and merch. Sell subscriptions. Sell anything else other than ads.
If you work your way up to 250 downloads an episode, you can build a sustainable model. Let's say at the beginning of each episode you pitch your product and you sell your product for $25. Now imagine you sell 4 of them an episode. If you do 4 episodes a month, that's an extra $400 dollars a month.
Compare that to the $10 you would make on selling ads.
There's no comparison. Selling ads is a waste of time.
Myth #2 – You need high production value
I started my podcast with my iPhone. After a month, I bought a USB mic that plugged right into my computer for $50.
These days, I have two high quality microphones, a mixer, editing software, two mic stands and a video camera for when I want to stream my podcast live on YouTube. In total, it cost me $400.
It sounds clear and professional.
It's not the production value that will determine if people resonate with your message or not. The Monday Morning Podcast with Bill Burr sounds like he is underwater and it's a wildly successful podcast.
*Note – after some research, I discovered that he bought a better mic. Here's a hysterical Reddit post about it.
Why is it successful? It's because Bill Burr makes people laugh.
If you have something to say, people will resonate with you.
Am I saying that production isn't valuable? No, of course not. Obviously there is value in having a quality product that people take seriously. Being able to edit intros and music and transitions can certainly take a podcast up another level.
But is it required? Hell no.
The only thing that is required is the willingness to publish your work.
Myth # 3 – You need to have a charismatic personality
One of my favorite podcasts is Myths and Legends. It was created by a man named Jason. I find Jason's voice to be really bland and boring. BUT I LOVE HIS STORIES!
Jason isn't trying to be a talk show host. He's not trying to be a motivational speaker. He's just telling his stories. It's great and I love it.
What Jason understands is that he is appealing to a certain audience. He understands what his show is about.
If you want to start a podcast, the last thing you should be worrying about is charisma. Your confidence and charisma behind the mic will come with time.
Instead, what you should focus on is picking a subject matter that you know or that you are interested in, because it is your passion, curiosity and knowledge that will engage your audience.
The main reason to start a podcast
Interviewing people has helped me build confidence, it has helped me be able to speak more articulately and it has helped me be more comfortable in front of a camera.
You should start a podcast because it's a great asset that will only grow in value as you work and build your audience.
You should start a podcast because it is one of the best ways to build trust and authority in a certain subject matter.
Most importantly, you should start a podcast because you have something to say.