Contrary to what many people think, local media is alive and well. In fact, I argue that there has never been a better time to go all in with this business model. The model is scalable, profitable, and fun.
In this article, I will teach you how to build a local media business. You will learn how to …
generate traffic
build an audience
create automated sales funnels
generate revenue
scale to create passive cash flow
Let's get started.
Why Now is the Time to Build a Local Media Business
Everyone has to live somewhere and almost everyone has an interest in their community. People are always searching for local events, happy hour specials, local business news and politics.
By default, you already have an audience that is SPECIFIC and MOTIVATED. Your job is to delight them.
People say that the local publishing industry is dead, but the demand for local content is as strong ever.
Newspapers are failing because they are still trying to monetize through old school advertising. Google and Facebook have completely squeezed the margins out of advertising dollars. Since 2004, 1800 local newspapers have gone out of business and the pandemic has only made it worse.
But if you follow my local media playbook, you will discover that the standard advertising model is ineffective and there are much better ways to do it.
How to Grow Traffic
To build a local media business, you need traffic.
A common mistake people make is they start trying to generate sales before they have taken the time to earn a legitimate traffic and audience base. You need to invest time and/or money into creating great content that serves your audience and generates valuable traffic.
People search on Google to find information about their neighborhoods, events, stories, and entertainment. Writing long form blog posts and helpful articles about the city you live in is a marketing strategy that will help you build your audience and generate lots of inbound search traffic through Google.
Eventually the traffic will become so valuable that advertisers will start reaching out to you in hopes to give you money.
Let me show you some examples …
I have two local media sites in my portfolio. The more successful of the two is called YourBoulder, which is a publication that provides content and resources to the people of Boulder, Colorado. When I bought this website, I immediately started publishing long form content around specific search queries.
The search traffic for this site has continued to climb month over month.
Google LOVES local media because of it's specificity. These results are not uncommon and you can receive similar results. You can see the huge uptick in search traffic in the chart below.
To achieve this, you need to be writing the right kind of content.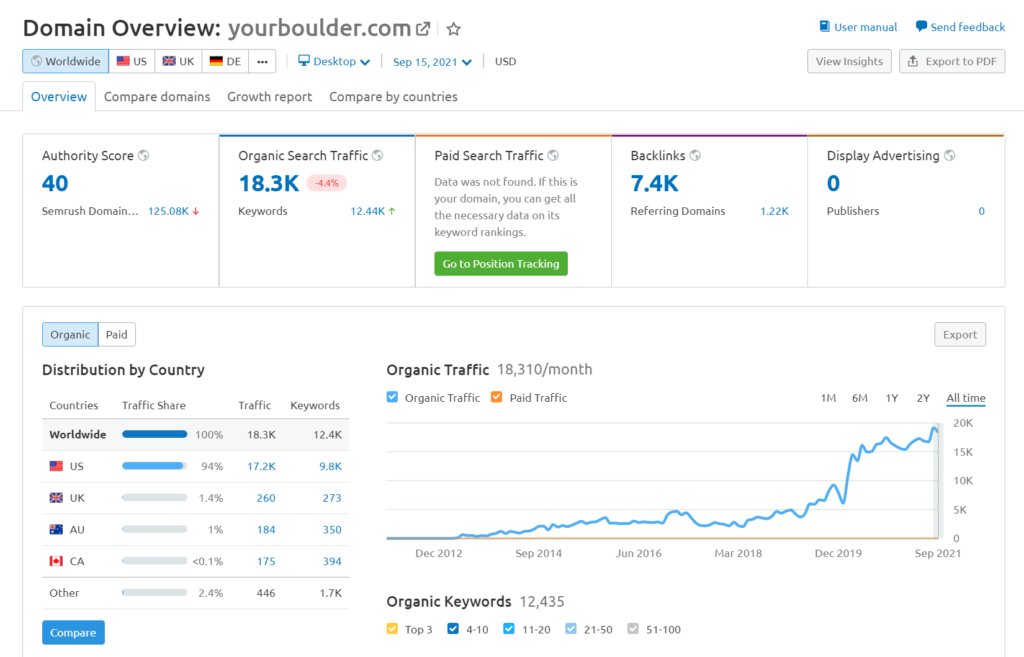 What kind of content should you be writing?
The key to generating traffic is to be intentional about the content you create. A big mistake people make is they fall into the trap of sensationalism. They write clickbait news stories with arrests, car accidents, and mug shots of drunk people.
This is a huge mistake.
These articles will make you feel like you are succeeding because this type of content can easily go viral on social media and can send huge waves of traffic to your site, but it will do very little in terms of generating the valuable traffic that can effectively monetize.
For long term success, you want to create content around 5 pillars.
1. Local News – By this I mean actual news. Some examples could be changes in zoning for real estate, a new mall being built, or the results of a local election. People aren't stupid, so don't insult their intelligence by only feeding them TMZ stories.
2. Events – There will always be search traffic for events. The best part is that Google will reward websites that organize local events and curate them into one place. Keep a watchful eye on…
Events in parks (outdoor Yoga, 5k runs, etc)
Happy hour deals (bars, restaurants, drink specials)
Night life events (dance clubs, comedy shows, live music)
Seminars and networking events (entrepreneurship groups, networking events, masterminds)
3. Bar / Restaurant Reviews – When you go out to eat, make sure you bring your iPhone. Take pictures of the restaurants you visit and write honest reviews of the food. You could also hire a writer who is a professional food critic. Restaurant owners will start seeking you out to write about them. (This is also a great way to get free meals 😂)
4. Local Business Directory – This is a must for two reasons. For one, people like to support local businesses and so organizing your cities local businesses into a directory is a helpful resource. But most importantly, business directories can generate huge volumes of search traffic and can generate TONS of revenue. (More on that later)
5. "What to Do" Guides – Assume that not everyone coming to your website lives there. Most cities have at least some element of tourism. Write articles for people planning a trip to your city and looking to plan their trip in advance.
How to Structure Your Website and Your Strategy
In order for your local media site to succeed, you need to develop a system.
Your system will keep you focused on singleness of purpose and will keep you from getting distracted by all the things that don't matter.
Like all of my businesses, YourBoulder follows a simple scheme.
Long form content generates traffic
Search traffic generates email signups
Email signups get put into an auto responder
The autoresponder monetizes through software
Let's go through these one by one.
What kind of long from content should you write?
Easy to digest list posts and guides have always worked best for me. For example, YourBoulder ranks #1 on Google for the keywords below.
hiking trails in Boulder
burgers in Boulder
sushi in Boulder
wedding venues in Boulder
places to dance in Boulder
There will always be a demand for this type of content and there won't be much competition because the local media sites you compete against will most likely be stuck in their old ways and writing content about drunk drivers and arrest records.
How do you collect emails?
Collecting emails is your biggest priority. Remember, "the money is in the list."
One tactic that has always worked well is combining FOMO with pop-ups.
I have tested dozens of different email signup tag lines. I've A/B tested different images, different forms, different CTAs and even different color buttons. In the end, I learned that none of that matters and the most successful email collection method has been a simple tag line with a recognizable background.
The tag line "Never Miss a Thing In Boulder" has been the most effective.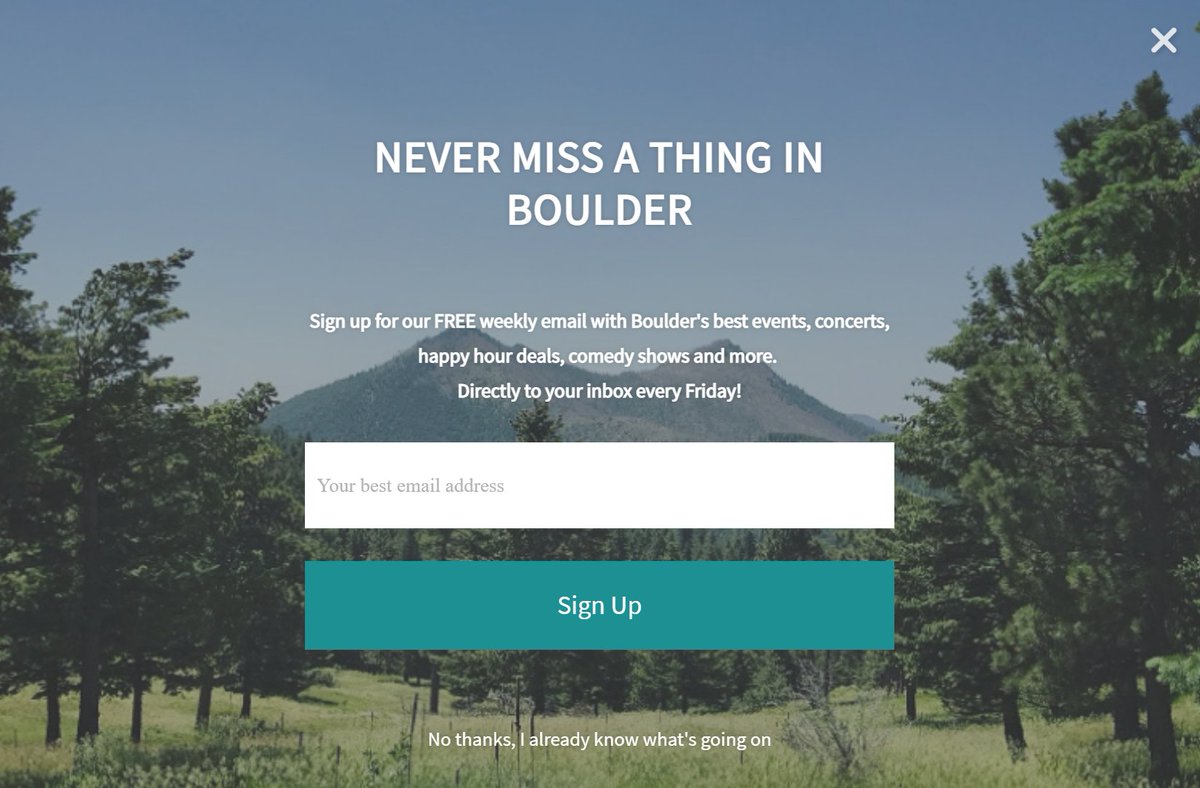 Generate Traffic through the Business Directory
I have created many successful businesses through directories. It's something that I feel comfortable with and it's a business model that is very under utilized.
Business directories work because they create categories.
Every time you create a new category in your directory, you are creating a new search query. The more listings you put in a category, the more "authority" your category has and the more likely it is Google will rank it.
Let's imagine you create a business directory in Nashville.
When you create your directory, let's imagine you create a category for "carpenters."
Now, let's imagine that over the course of months or even years, every carpenter in Nashville lists their business in your directory. Suddenly, you have an entire section of your website that is the absolute best resource to find carpenters in Nashville.
So when people search for "Carpenters in Nashville" what do you think Google will show them at the top of the results page?
You guessed it. They will send people to your category page.
This example is true with any business category.
electricians
hair salons
bars
physical therapists
dentists
anything you can think of
Take the time to invest in your directory and it will pay off in spades.
How to Monetize a Local Media Business
Before we go any further, it's important to once again remind yourself that the times have changed. It's no longer feasible to put a website together, throw Google AdWords on it and make $100,000 a year.
Those days are gone and we need to be more sophisticated and creative in our sales methods. I've seen many examples of people trying to take the easy way and in doing so, wasted lots of time and never built the business the envisioned.
But if you follow this playbook, you will generate sales and profits at scale.
1 – Newsletter Ads / Sponsorships
Newsletter ads are a form of advertising that remain profitable and effective. If you have an email list full of people in Nashville, then it makes sense for a local business to be advertising on your newsletter because they know the audience matches the intent.
You can charge anywhere from $25 – $45 per CPM. (Cost per 1000 impressions).
So if you have 4000 people on your email list, and you have a 50% open rate, that means 2000 people opened your email. 2000 opens means 2000 impressions and at a $30 CPM, you can charge $60 for an ad slot on your newsletter.
This doesn't seem like much at first, but once your list grows to 50,000 or more, you're now generating huge revenue numbers through your ads. This is especially true if you are sending a newsletter every day and have enough ad inventory to put an ad on each newsletter you send.
Pro tip: There is a great tool which makes selling newsletter ad slots much easier. I have used the tool myself and I have worked closely with the team. I encourage you to check out Letterhead.
2 – Directory Listings
This is my absolute favorite way to monetize. I love directory listings because they are…
Lucrative
Scalable
Easy to automate
What I love about directories is that monetizing doesn't require the type of man power that selling newsletter ads does. If you build it right, the directory software itself can sell the listings for you.
This requires a different way of thinking. You can think of your directory more like a product and give your customers a way to buy directory listings right through the website.
With business directories, you can leverage software and automate sales. Your customers do all the work for you and your job is to provide the traffic so that their directory listings perform for them.
There are so many ways to organize this.
You could create different tiers of listings. Maybe you sell a bronze, silver and gold package. Each package has different benefits and the gold package allows the business to feature their listing at the top of whatever business category they are a part of, so that their listing is always the first one people see when they get to the page.
What's important is that you learn how to automate the sales through email autoresponders and great sales copy.
Pro tip: Building directories can be complicated. If you're just getting started, I recommend using a plugin or a web template that will do the heavy lifting for you. I recommend (and have used) The Business Directory Plugin. If you want to dedicate your entire website to a directory, you can use the 27 collective theme.
3 – Job Boards
Job boards are very similar to business directories, in that you can treat them more like a product than advertising.
You can dedicate an entire section of your website to jobs. There are always people who are searching for jobs and there are always companies who need to find good employees. With a job board, companies can fill out their own job postings directly on the website.
This is another great option to automate your revenue.
4 – Real Estate
You can put an MLS on your website and generate leads for other real estate brokers.
If you have a real estate license, you can even use your local media site as a way to generate leads for yourself. IDX broker is my favorite software to create a real estate MLS on your site. With IDX broker, you can even create different sub listings for different towns and neighborhoods to create keyword variations.
For instance, your directory may be going after keywords such as "real estate in Nashville", but if you create sub categories, you can then rank for keywords such as "real estate east Nashville", or even "real estate in The Gultch."
This will broaden your traffic and give you more opportunities to sell real estate leads or even close deals yourself.
P.S. – There are strict laws around lead generation for real estate. If you put an MLS on your site, be sure to consult your attorney.
Final Thought – Don't Listen to What I Say, Watch What I Do
I will never write an article or provide resources for a business strategy that I don't believe in or that I don't actively pursue myself. I believe in local media so much that I recently made the investment to rebuild YourBoulder and automate the sales process that I 've outlined above.
We are rebuilding the website, creating an entire new media kit, and rebuilding the software for better customer experience.
Here is a link to the new website. It's not finished yet, but it will launch next week.
The strategy I am using is the exact strategy I outlined in this post. I have used this strategy countless times in many different vertices. There's no question it will work for local media.
Over time, I hope to create a template that I can use to franchise this model out to other entrepreneurs, or simply duplicate the process myself and repeat the system in opportunistic cities.
If you're interested in starting your own online business, I highly recommend giving local media shot. It's low risk, high reward and simple.